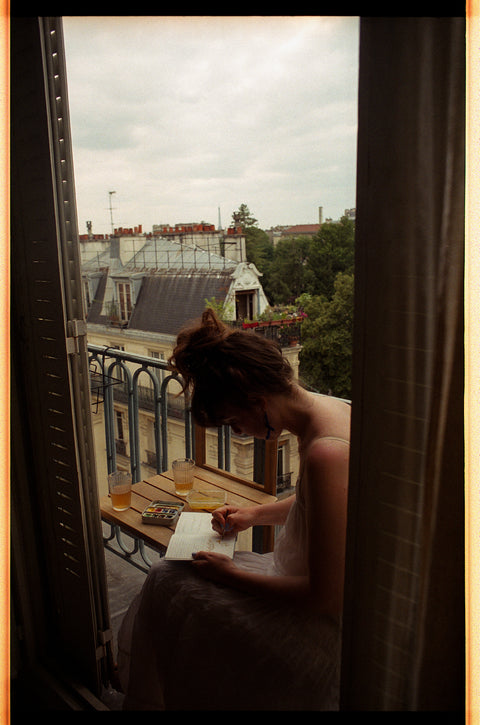 paris je t'aime
My wife Christine and I took a trip to Paris for our 5-year anniversary this summer. Original, I know. But to be honest, there's something there for everyone and we had the best time.
When we travel, we do our best to not load up the days and we enjoyed staying off the beaten path and taking things slow. We spent 10 days in Paris enjoying daily picnics and strolling aimlessly through the city, often ending our days with miles under our feet. As cliché as it sounds, we loved the simplicity of European life where people value time spent with others, sharing food and drink.
My love letter to Paris is penned specifically to the artisans that helped make the city what it is and those who continue to hold high standards and give importance to beauty. From bakers to gold gilders to furniture restorers, we witnessed old-world skills being cultivated for the next generation. One of the things I love about Christine is how much she loves the little details & impressive craftsmanship as much as me. We value detail and that was found in abundance throughout the city. Witnessing the intricate halls of Versailles and the gilded bridges adorning the Seine I swear we sounded like a broken record every time we would mutter "they don't make things like they used to".
We have always gravitated toward the old techniques due to their tactile nature and the stories that a piece can tell through subtle/not-subtle imperfection. We both came away from the trip feeling humbled by all that there is still to learn and understand in our field, yet honored to be doing our part in reestablishing age-old traditions.
In honor of our trip and as a nod to reaching our 5-year anniversary, I'm happy to introduce our newest band the Spruce Band.
Modeled after ones we saw on men throughout Paris, the Spruce Band is a 2.5mm band that carries an understated elegance with its slim silhouette. This is ideal for those who desire a subtle but sturdy symbol of their affection.