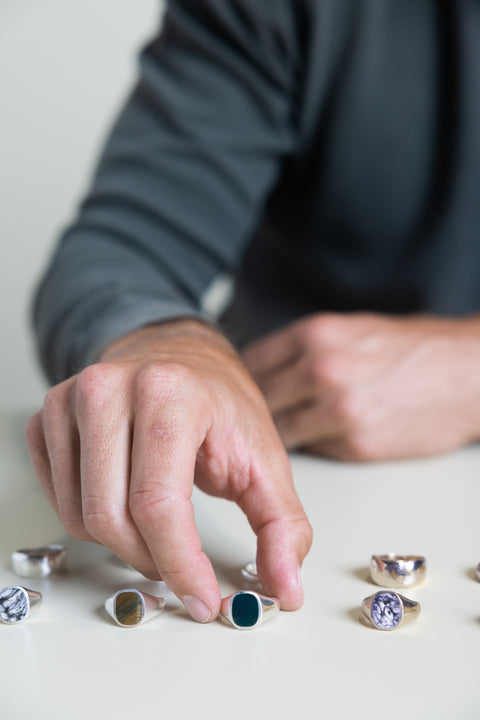 Men's Ring Types
I want to start this blog off by saying that Blœdstone is in no way a male identifying exclusive brand. A ring is a ring is a ring and anyone with at least one finger can enjoy the delight of wearing one. 
Types of rings for men
That said, having been in the jewelry industry for 6 years now, I have noticed an extreme lack in options for mens jewelry. Or rather, an overwhelming amount of only okay options. It seems like if you are looking for men's wedding bands, you find something on Etsy or you have to buy from a big box brand.
Different types of rings and their names
And in my opinion, the brands that do exist in the men's jewelry category offer too many different types of rings. For example, I go to a leading jeweler's website and I see these types of ring band styles:
Half Round

Half Round Light

Half Round Ultra Light

Half Round Comfort Fit

Half Round Comfort Fit Light

Half Round Comfort Fit Heavy

Knife's Edge

Knife's Edge Light

Flat

Flat Ultra Light

Flat Comfort Fit

Half Round Edge

Comfort Fit Edge

Flat Edge

Miligrain Half Round

Miligrain Half Round Light

Miligrain Half Round Comfort Fit
And these are just a fraction of the shape variations you can choose from. I'm not saying options are bad...but it's overwhelming, especially when the nuances are subtle. 
Ring Metal Types
And that's just the shape. Here's a list of primary materials marketed in men's jewelry. 
Tungsten

Titanium

Cobalt

Stainless Steel

Tantalum

Silicon

Blue Enamel with Carbon Fiber Inlay

Tungsten with Imitation Meteorite Inlay

Damascus Steel

Titanium Zirconium with Wood Inlay

Etc etc….
And that's why we started Blœdstone. To hopefully make choosing a ring a little easier, and to give you the assurance that it was intentionally designed and will last your lifetime and beyond.
You can view our types of rings here, but here is a breakdown of our styles. Six unique designs, available only in solid sterling silver and 14k gold - because we believe those are the superior metals when it comes to rings.
Types of men's wedding bands
Our men's wedding bands come in 3 widths. All are hand carved and given the perfect form and comfort fit. Here's the process of how we make them:
1. We start with a wax tube. I (Christine) saw off a 6mm sliver, then use my sizer tool to carve out the wax in the middle to fit it to a size 8.

2. Then I start carving away at the exterior with a file, starting with the coarsest grit and moving to the finest. The result is something similar to a half-round band.

3. Once enough wax has been removed and the ideal form is revealed from within, we take it to our casters in downtown LA to transform it into either sterling silver or 14k gold. This process is called lost wax casting, and is the same technique used to make jewelry for centuries. For our designs we only use recycled gold and silver. 

4. Once the casting is finished, either Cody or I will hand finish each ring. With our polishing tools, we take the roughly cast precious metal and grind it down to it's final, perfected shape and texture.
Types of ring designs
So while other brands may offer a wide variety of wedding bands, we are keeping things simple and only offering the styles, shapes, and metals that we believe to be the best. 
Now let's talk about our stone inlaid Signet Rings.
Long story short, our Signet Ring style is the ring that Cody was hoping to find when we got married. While there are many different types of ring styles available, this is what he envisioned as his wedding ring. Something vintage inspired, and similar to a ring you'd have inherited from your great grandfather or found in a tray at an antique store. But stone inlay is a dying art, and there are few manufacturers in the US that still offer it as an option. Thus, finding a new ring like this, ethically and sustainably made, is very hard. 
Thankfully, we've spent time knocking on doors and making cold calls and finding all the craftsman in downtown LA who still do lapidary work. We met Song in the spring of this year, and his work and attention to detail matched the precision we wanted for Blœdstone. It has been an absolute privilege to work with him to bring our designs to life.
Cody worked on the shape and overall design of the signet for months. It went through many rounds of revisions before we landed on what you see today. Every angle and curve intentional; every millimeter of metal strategically measured; every stone specifically chosen for its beauty and uniqueness.
The result? A modern heirloom. A design to wear for the rest of your life and to be cherished for generations to come. Christine